Wire Arrays and Antenna Systems

---

PREEMPTIVE NOTE:
---
VE7SW HAS NOW MOVED TO A MOUNTAIN SITE OVERLOOKING THE ST. LAWRENCE
RIVER IN QUEBEC, AND HAS CHANGED THE CALL TO VA2GU. THE ONE MILE ROAD
TO THE MOUNTAIN TOP HAS BEEN COMPLETED AND SUMMER 2006 WILL SEE THE
BEGINNING OF A PIECE EN PIECE LOG CONSTRUCTION; SINCE I CANT WAIT FOR THE
FINISHED HOUSE, A SMALL ACCOMMODATION NEXT SPRING WILL ALLOW IMMED-
IATE OPERATION FROM THE TOP.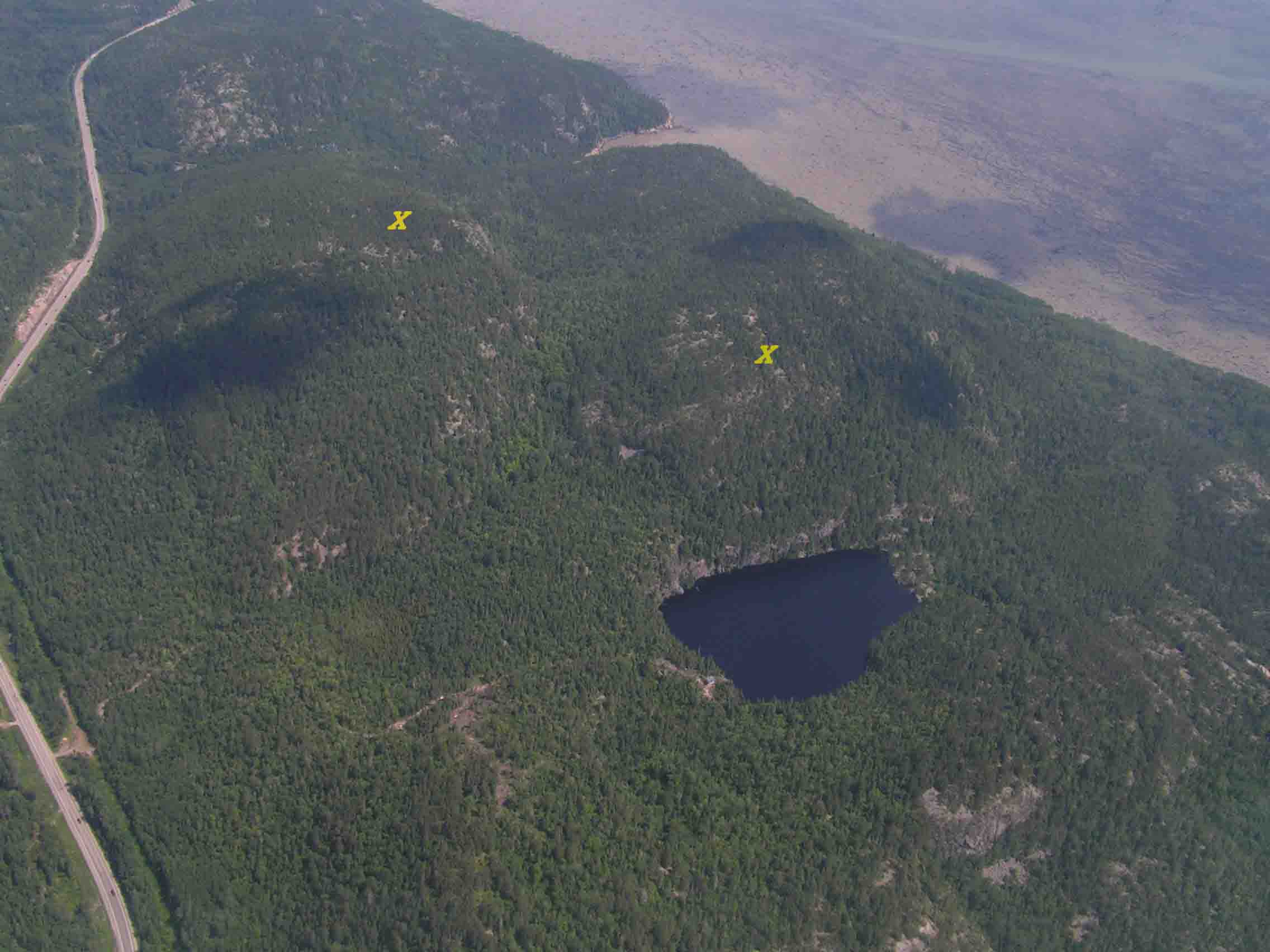 2007 UPDATE:

VA2GU IS NOW PARTLY OPERATIONAL FROM THE TOP , WITH LIMITED ANTENNA CAPABILITY (80M DIPOLE

HUNG BETWEEN TWO PINES AT 8M ABOVE THE ROCKY TOP). SIGNALS ARE JUST ....WHAT THEY SHOULD BE,

THAT IS YOU HEAR EVERYTHING AND THE NOISE IS NIL (S4 WITH 90DB OF PREAMP FROM HB TR SWITCH + PRE-AMP ON THE K2).

HAVE ALREADY WORKED JA, VK, 9V1, ETC, ON 80M CW BOTH LP AND SP. (I DO NOT OWN A MIKE AND THE K2 DOES NOT HAVE THE SSB OPTION)

MY MAIN OBJECTIVE IN MOVING FROM VE7 LAND WAS TO WORK DX 24/7 365 DAYS OF THE YEAR.

SOME (ALL?) OF YOU WILL LAUGH, BUT THAT WONT DETER MY RESOLVE.

SIGNALS HAVE STARTED COMING IN AT 11AM SINCE I STARTED LISTENING BEGIN NOV '07 AND I HAVE

BEEN ABLE TO WORK EU FROM NOON ON SINCE THEN. THE DAYS I DONT HEAR SIGNALS SEEM TO BE MORE

DUE TO THE LACK OF STATIONS RATHER THAN SIGNALS NOT COMING THROUGH.


I HAVE STRUNG A 2000 FOOT POLY LINE BETWEEN THE TWO 300M TOPS ON THE PROPERTY (THE
YELLOW Xs ON THE AERIAL ABOVE); THIS HANGS AN AVERAGE OF 275 FEET ABOVE THE VALLEY BELOW.

AM IN THE PROCESS OF RUNNING THE 1500 FEET OF HB O/W LINE TO THE VALLEY AND WILL HANG A 3 EL

PHASED 80M CVA FROM IT THIS WINTER/SPRING. BELOW LEFT IS WHAT THIS CVA WILL SEE. BELOW RIGHT

IS VIEW FROM OUTSIDE OF SHACK TO VK/ZL LP (120 DEGREES HERE).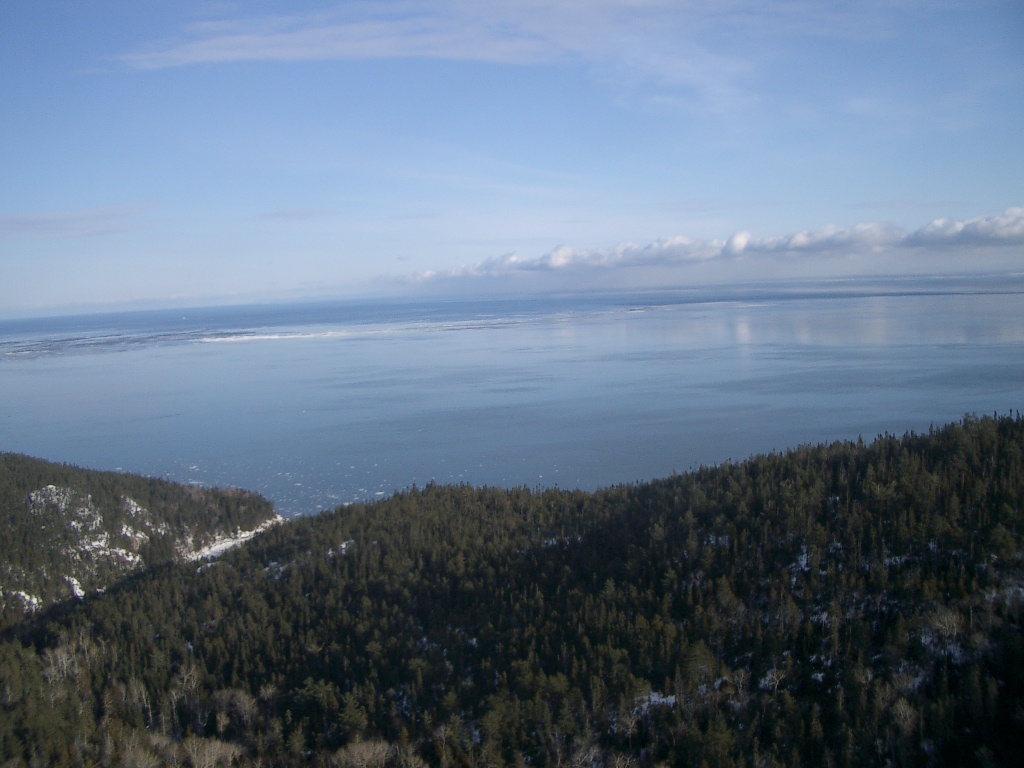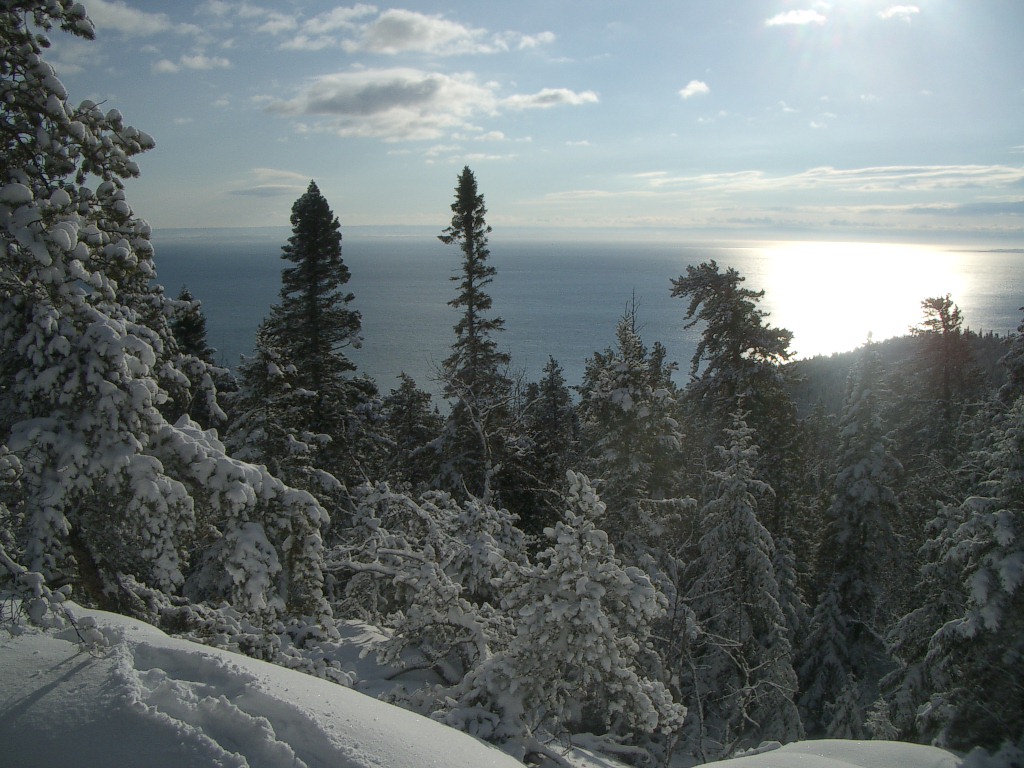 NEXT SUMMER WILL ALSO SEE FINISHING THE HB LOG HOUSE (NOW CLOSED FOR WINTER) AND ERECTING

TWO 80' TOWERS. THESE WILL HAVE 275' SEPARATION AND WILL SUPPORT A 3 EL PHASED CVA FOR 80M
AND A 1/2 WAVE 160M DIPOLE . THIS 3 EL CVA WILL BE PHASED WITH ANOTHER 3 EL CVA 55' AWAY, HUNG

LOW BETWEEN TREES FOR AN EXTRA 3 DB GAIN AT 120/300 DEGREES. HANDY, CVAs DO NOT NEED RADIALS.


THE AERIAL VIEW ABOVE SHOWS THE PROPERTY BEWTEEN THE ROAD AND THE SEA WATER (ST LAWRENCE RIVER)

AND THE TWO HILLTOPS WHERE I HUNG THE LINE IN A DIRECT N/S ORIENTATION.


THE WINDS ARE REAL AND TREES ALL SLOPE TO THE N/E AND HAVE VERY FEW BRANCHES ON THE SW SIDE!!!
125 YEAR OLD PINES ARE 35 FEET TALL AND HAVE A TRUNK DIA OF LESS THAN 12 INCHES. VE7 TREES ARE
THEN 150 FEET TALL AND 36 INCHES DIA.....OR MORE.

I LIKE TO OPERATE CW AT A GOOD CLIP AND PREFER TO RAG CHEW RATHER THAN RST/73/CUL.

(ZL4GU, WHERE ARE YOU?).

IF YOU CALL CQ ON 80M CW AT 1800Z OR BEFORE, BEAM NORTH AMERICA; CHANCES ARE I'M ANSWERING.

The information presented in these pages, is a result of the author's experiences; if some statements offend particular equipment/software manufacturer, it was not intended so. However in my experience, the recommended material has been chosen to be more friendly in its uses. As new upgrades become available, these recommendations may change, and the author welcomes your suggestions. As time permits, the pages will be updated.
This site is still in its infancy stages. Some of the links may not connect yet. Thanks for bearing with the construction phase.
---
This home page is the result of several years of tree scaling, blisters, cuts and bruises caused by hoisting arrays in all kinds of "natural" environments.
One of the reason to publish these pages, is to provide some information for those who enjoy free range (antenna farms), and don't fear to tread where eagles dare!!! BUT stick around... small spaces can also enjoy big performances; refer to the CVA page
Present day litterature, seem to concentrate on pea sized yards with no structure to support the wires. The author had to extrapolate on the existing material, to arrive at practical considerations on the building and use of highly efficient wire arrays.
However, many of the wire arrays presented here, and in particular the CVA, requires very little in terms of time, material, expenditures and both, vertical and horizontal real estate.
An additional benefit of wire arrays, is their stealth nature. If you have nosy neighbours or local suspicious council members, these arrays will avoid visual detection; this can be a disadvantage when you want to see if your array is still up...; usually the feedline is there, seemingly hanging from a "sky hook".
For those of you using the earlier generations of computers, I have limited the pictures on this first page to accelerate its loading on your browser. On subsequent pages, the pix are of lower definition; but a click on most of these will bring up the full screen version.

The bulleted list below, targets specific arrays to get you directly to the topic you want. Simply click on the related name. Some pages may not be active yet .
Antenna Types and Related Subjects:
---
Site design by
1998-2013 HRLabs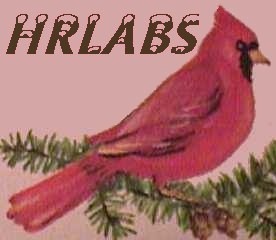 (updated 130202)